15% OFF!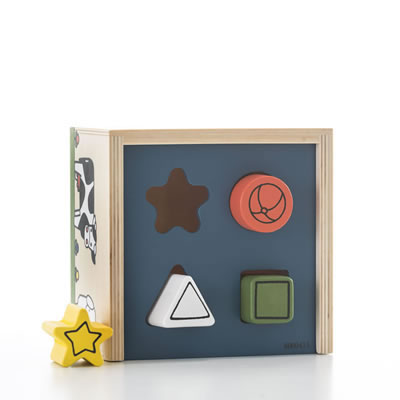 Free UK Shipping on orders over £50
Miffy Classic Shape Sorter
This wonderful Miffy Classic wooden shape sorter comes with 4 wooden shapes: Star, Circle, Triangle and Square. Each shape has a designated accompanying shaped hole within the top of the wooden toy for the shape to fit through. This sturdy toy helps develop fine motor and problem solving skills in those essential early years.The classic Dick Bruna illustrations use bold colours to appeal to young eyes, and contain images of Miffy and other classic characters from the books. Approx 15 x 14 cm.
More Product Info »
Availability
In Stock
Title
Miffy Classic Shape Sorter
Product Code
MF33090_MIFFYSHAPES
Edition Type
Open Edition
Copyright
© Mercis bv
More Details
• Shipping: Usually ships within 2-3 day(s)